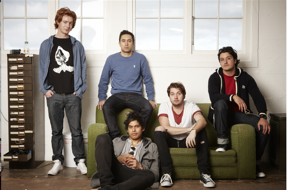 Six60 is ready to head full speed into the U.S., with their debut self-titled release out now! Hailing from New Zealand, this energetic electro-pop powerhouse brings together the perfect blend of soul, rock, dub step and drum and bass. Already gaining huge success in their homeland, the group is ready to take on the rest of the world! With over 110,000 Facebook fans, the band already has a double platinum debut album including the double platinum selling singles "Rise Up 2.0" and "Don't Forget Your Roots."
The band's infectious track "Forever" is now available for free download opening with gorgeous vocals, mixed with silky and harmonious guitars, the song picks up with hammering beats and layered synths that will make your jaw drop.
Six60's music is versatile and vibrant, as their explosive guitars, thick beats and fierce vocals fill each inch of the room with pure and utter perfection. From heavy hitters like "Get," to the hypnotic track "Run For It," that channels Miike Snow, Six60 prove there is nothing they can't accomplish. Slick guitar riffs accompany smooth vocals to create a stunning album that will not only intrigue you, but become an instant favorite.
Lucky North American fans will be thrilled to find out that this Spring Six60 is heading on a nation wide tour of the US.
This, my friends, is what rock n' roll is all about….Six60 Live and Massive!
* GRAB THE FREE DOWNLOAD of "FOREVER" *
TOUR DATES
Wednesday, June 6, 2012 – Hotel Utah – San Francisco, CA
Thursday, June 7, 2012 – Crystal Bay Club Casino – Crystal Bay, NV
Saturday, June 9, 2012 – TBD - Los Angeles, CA
Sunday, June 10, 2012 – Anthology - San Diego, CA
Tuesday, June 19, 2012 - The Mercury Lounge - New York, NY
Wednesday, June 20, 2012 - Tin Angel - Philadelphia, PA T
hursday, June 21, 2012 - The Great Scott - Boston, MA
Friday, June 22, 2012 - The 8x10 - Baltimore, MD
Saturday, June 23, 2012 - Woodbury Reggae Festival - Woodbury, CT
Sunday, June 24, 2012 - Bayley Beach Park - Rowayton, CT (Free Show)
Wednesday, June 27, 2012 - Hard Rock Cafe - Pittsburgh, PA
Thursday, June 28, 2012 - Woodlands Tavern - Columbus, OH
Sunday, July 01, 2012 - Summerfest - Milwaukee, WI
Grab The Bookmarketer For Your Site